Increase your neurology evaluation and improve diagnosis confidence and accuracy
Empower your practice with our easy-to-use neuroimaging software solution and world-leading catalog of the most up-to-date AI biomarker tools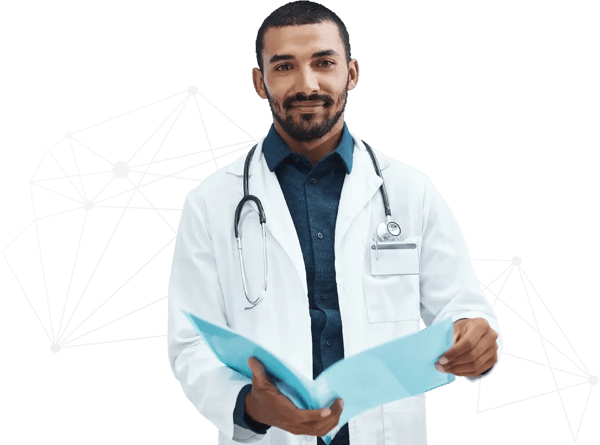 Our neuroimaging software solution enables you to simply and easily manage your imaging data, apply AI biomarker tools, visualize and gain consistent quantified insights into features and changes in the brain.
AI tools won't replace you, but will help overcome your challenges

Enabling Diagnostic Speed
Manually analyzing brain scans to find specific pathologies, measuring tumors or lesion volume and counts can be cumbersome and take many hours of fatiguing work. Delivering clear and easy to understand analysis information for referring physicians is also a challenge.

Aiding Treatment Decision-making
Decision-making for treatment selection is often subjective, based on clinical signs and trial-and-error, often taking months or even years1. This leads to delays in effective treatment while time and resources are wasted and recovery is prolonged [2], [3].

Improving Diagnosis & Prognosis Confidence
The use of imaging in brain disease diagnosis and prognosis is subject to human interpretation and often manual analysis. Qualitative and time-consuming diagnoses based on manual image analysis can result in a lack of consensus or errors [4].
Our comprehensive visual reports support faster care decisions
Automated, Visual Patient Reports
Neuroimaging scans and analysis results are simply viewed via a browser using our multi-planar viewer or via an exportable PDF report that summarizes the resulting output in a visual and concise way.
PDF reports are easily shared, and include image slices at different orientations (coronal, sagittal, etc.) with lesions or damages marked in different colors, and tables compiling the main quantitative outputs on measurements such as volumes of different regions, number of lesions or longitudinal changes.
We can customize your reports aligned with your needs and simplifying reading and dictation.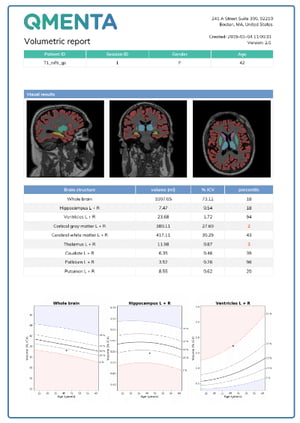 QMENTA simplifies your neurological evaluations with the confidence that the algorithms you use have been trained on the highest quality and volume of imaging data
AI Biomarker Tools and Image Library
Our world-leading catalog of AI Biomarker Tools

provides you unique insight into the brain. Changes to tissue can be accentuated and damage or hyperintensities highlighted in 3D and color. Create brain network maps in order to see changes in connections due to disease/injury.

We ensure our algorithms remain state-of-the-art, through partnerships with leading providers and institutions and ongoing training of AI tools with large volumes of high quality data.

Gain access to our extensive curated neuroimaging library of over 10M scans.
Multi-Modal Imaging Data
QMENTA easily and automatically manages multi-modal data including MRI, PET, CT, OCT and EEG in a variety of formats.

Our simple to use AI-powered data uploader automatically identifies and classifies modality and sequences, performs quality checks and removes sensitive patient identifier data.

Each subject's session can be extended with additional metadata and clinical data.

Add collaborators from anywhere in the world in seconds.
Expert Guidance & Support
Regulatory Compliance
QMENTA provides built-in compliance and security with top industry certifications: FDA 21 CFR Part 11 & 820, Annex 11, GDPR, IEC 62304, ISO 13485:2016 and HIPAA.
QMENTA provides integrated de-identification, from within the centers´ firewall, automated removal & replacement of DICOM tags, offset dates and image de-facing.
The privacy of patients' Protected Health Information (PHI) is respected at all times.
Time savings by automated advanced image analysis [5]
Cost savings in advanced image analysis [6]