CNS IMAGING
Advanced Solutions for Neuro-Oncology Research
Cutting-edge solutions for thorough brain tumor examination.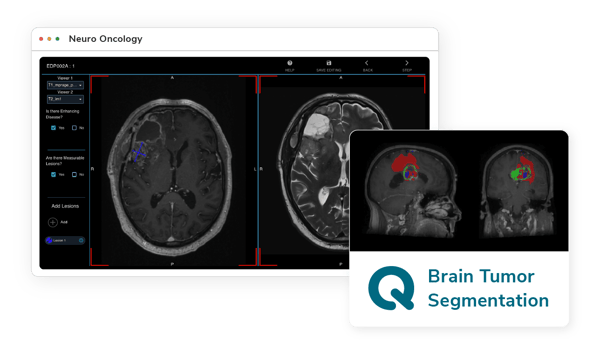 Dedicated to Innovate
In 2023, the National Brain Tumor Society expects about 87,500 people to be diagnosed with brain tumors, with roughly 26,300 of these being cancerous, our work has never been more critical. Emphasizing the growing importance of biomarkers in the diagnosis and management of brain tumors. Our unique tools, like the Digital RANO, allow you to use imaging biomarkers to help us understand important parts of the tumor. These tools can tell the difference between tumor and non-tumor areas and measure things like blood flow, giving us a clear picture of the tumor and how it might affect nearby tissue.
37. Warmuth, Carsten, Matthias Gunther, and Claus Zimmer. "Quantification of blood flow in brain tumors: comparison of arterial spin labeling and dynamic susceptibility-weighted contrast-enhanced MR imaging." Radiology 228.2 (2003): 523-532.
38. Jackson, Alan, and David L. Buckley. Dynamic contrast-enhanced magnetic resonance imaging in oncology. Ed. Geoffrey JM Parker. Berlin: Springer, 2005.
39. Çoban, G., et al. "Prognostic value of dynamic susceptibility contrast-enhanced and diffusion-weighted MR imaging in patients with glioblastomas." American Journal of Neuroradiology (2015).
40. Lee, B., et al. "Clinical Value of Vascular Permeability Estimates Using Dynamic Susceptibility Contrast MRI: Improved Diagnostic Performance in Distinguishing Hypervascular Primary CNS Lymphoma from Glioblastoma." American Journal of Neuroradiology (2018).
National brain tumor association.
Image Source:
1: J. Ramalho, et al. "Gadolinium-Based Contrast Agent Accumulation and Toxicity: An Update". American Journal of Neuroradiology (2016).