MS Global Data-Sharing Initiative
As the COVID-19 pandemic unfolds across the globe, the demand for data on the impact of the virus on people with Multiple Sclerosis (MS) grows rapidly. There is an urgent need to gather and share information to enable evidence-based decision making on the clinical management of MS during the pandemic, and to inform future research.

The Multiple Sclerosis International Federation (MSIF) and the Multiple Sclerosis Data Alliance (MSDA) have teamed up to form a Global Data Sharing Initiative to achieve insights on the effect of COVID-19 in people with MS as fast as possible, with the intent to steer clinical decision-making during the pandemic.

QMENTA is partnering with this global initiative by donating its AI-powered, cloud-based, data integration platform to serve as the central hub for data collection and analysis. QMENTA is ISO 13485 certified and is in compliance with additional industry standards such as HIPAA, GDPR, and FDA Part 11 & 820. Security and privacy are key requirements for the initiative.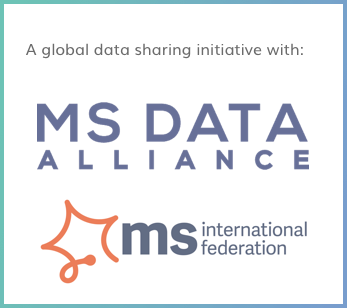 For Registries
---

We recommend data collection via one of the participating COVID19 MS data collections (list for people with MS, list for clinicians). Data sharing via registries and cohorts support short-term as well as long term research. Data entry usually takes between 5 and 20 minutes. A Fast Data Entry Track is provided and takes up to 5 minutes (submit data via the buttons below). The Fast Data Entry track contributes only to short term research.
Important note: Do not contribute data via more than one initiative
Weekly results update
---

Last update: 07/04/2022 | Total Count: 10500 | Reported by PwMS: 7170 | Reported by health care professionals (HCP): 1591
Fast Data Entry Track
Entries directly into the QMENTA platform. Learn more here.
PwMS Registries/Cohorts
COVID19 datasets from participating registries and cohorts collecting information directly from PwMS. Learn more here.
HCP Registries/Cohorts
COVID19 core datasets from participating registries and cohorts collecting information via HCP. Learn more here.
Total number: 1375
Total number: 5795
Total number: 1591
reported by PwMS: 1251
reported by PwMS: 5795
reported by HCP: 124
reported by HCP: 1591
Efforts are already underway in a number of individual countries to start collecting data, but there are many advantages to collaborating on a global level:
Aligning data collection protocols around the world

Providing a framework to enable data collection across multiple countries and regions

Enabling comparative analysis of treatment regimes and outcomes across different countries

Reducing the time and cost of future collaborative research using COVID-19 and MS case data (compared to using retrospective data harmonization efforts)
For general inquiries, please contact us by using the form below
Latest news about COVID-19 from around the world: