SMART UPLOADER
Flexible, & Compliant Data Collection
Our end-to-end solution streamlines the process of data collection in a consistent, compliant way.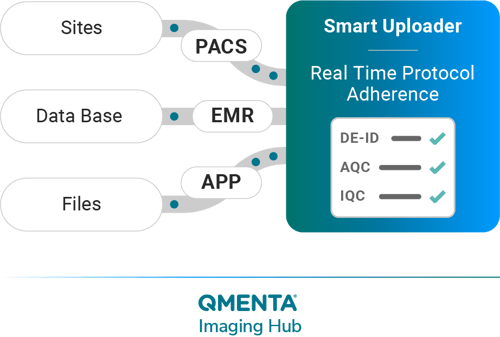 Real-time Protocol Adherence, De-identification, and Quality Checks
Leave behind the outdated methods of CD burning and experience a secure transfer of medical imaging data in various formats from multiple locations. Our platform provides diverse upload options, like browser-based uploads or through our PACS connector. This significantly reduces the typical 2 to 3-week lag between the image capture and its upload to just a couple of minutes.

Our Smart Uploader uses advanced AI tools to guarantee standardized data collection, supplemented by customizable protocol adherence, we eliminate repetitive tasks and unnecessary complexities, to assure an elevated level of accuracy and reliability in your imaging datasets. This enables you to make well-informed decisions based on reliable data.

Flexible Data Collection
We offer an array of secure methods to transfer your images and clinical data, tailored to meet your unique needs. You can establish a direct connection between your site and our system using our flexible upload options or a custom Python API, providing swift and reliable data transfer.

Auto De-Identification
Our platform integrates advanced AI and machine learning features for automated data de-identification during the uploading process, so in a couple of minutes you are able to remove the PHI data, and ensure stringent data privacy.

eCRFs Data Capture
Guarantee top-tier data capture for your clinical research by aligning with your study flowsheet. Our Smart Uploader presents a comprehensive, unified solution for collecting not just medical imaging data, but also eCRFs that encapsulate a diverse range of study data.

Customizable Protocol Adherence
Our platform automatically checks that all parameters of the uploaded imaging data align with the predefined protocol, verifying resolution, required sets among other parameters. It has the capability to identify missing data or incorrect parameters and promptly alerts users.

Automated data transfer (PACS Connector)
Easily transfer data between PACS workstations with DICOM node and DICOMweb via PACS Nexus. This automation streamlines medical imaging, pulls studies from various sources, and sends results back to other DICOM workstations or PACS, enhancing efficiency and ensuring a seamless workflow.

Compliance-Driven Tools
Utilize our Smart Uploader to align your data collection with current regulations including HIPAA, GDPR, CCPA, and FDA 21 CRF part 11. We integrate the latest compliance standards into our platform, ensuring full adherence and minimizing the risk of legal or regulatory challenges.