IMAGING CLOUD
Beyond a PACS Cloud: A Home for All Your Imaging Data
Experience an imaging repository compatible with all formats, backed by robust security protocols and offering immense scalability for your diverse needs.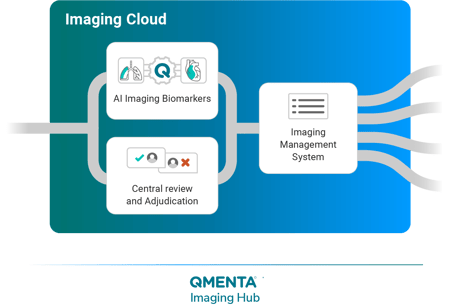 Enhance Your Data Management and Collaboration
Managing imaging data for a wide range of study types across drug development stages and therapeutic areas poses numerous challenges for sponsors. These challenges vary among organizations in terms of data heterogeneity, IT costs, workflow automation, and data accessibility for all stakeholders. As teams implement integrated data warehouses and advanced analytics with AI, these challenges become more significant, emphasizing the need for best practices in system architecture and data management.

Our technology allows for robust, secure and inspection-ready data management in any type of trial. It can act as the core source of truth right at the center between the sites, sponsors, and CROs.

Flexible Data Aggregation
Effortlessly transfer your study data using our wide range of options, including bulk upload. Our adaptable database enables the aggregation of all formats of imaging data from various sources, along with other data such as reports and forms.

Ensuring Data Compliance
Not only does our system allow you to retain data at the source or site of origin, but it also provides the capability to categorize and tag data in numerous ways, facilitating anonymous and compliant data sharing and review.

Secure Data Storage
We safeguard your data with encryption at rest, offering protection against any unauthorized access. Our security measures have undergone thorough auditing by independent security experts, leading CROs, and sponsors.

Backup & Restore
Our system keeps all older versions of your images and data safe and easy to find thanks to continuous version tracking. This feature helps you easily keep track of changes over time, recover old versions without hassle, providing you with peace of mind.

Interoperable Database export
This Imaging repository offers simplified data management with exportability to CSV for use with Excel and statistical packages. Our API enables varied exports and integrations, enhancing reach and compatibility.

Access Control
Our robust security system proactively prevents unauthorized access to your data. Enhanced by two-factor authentication, we ensure an additional layer of security, safeguarding your information with utmost priority.