Digital Central Review for Imaging Clinical Trials, and AI Biomarkers Validation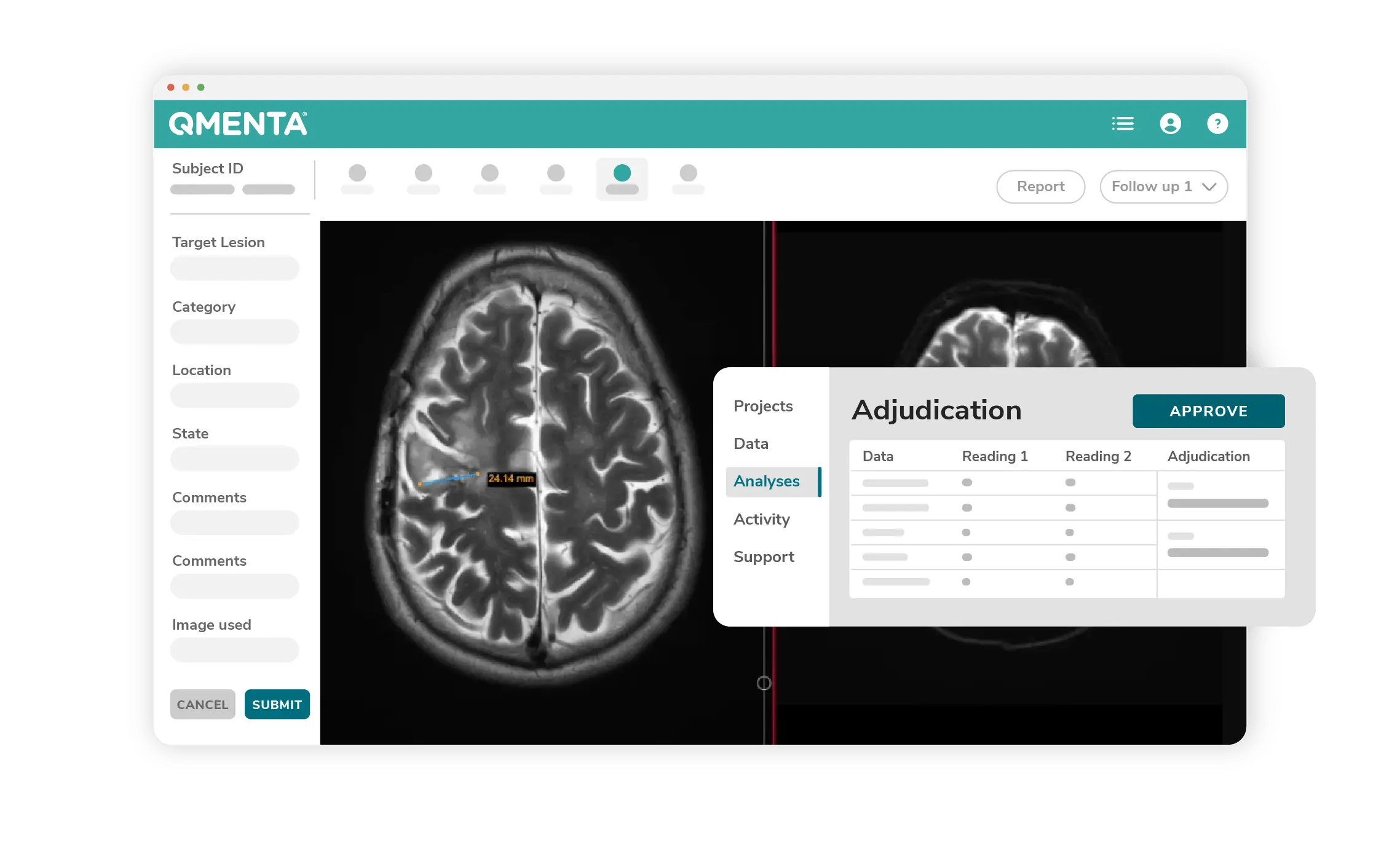 Access Your Data Anywhere, Anytime
Our easy-to-use interface makes handling your imaging data a breeze, and it's accessible from any web browser. The platform is not only user-friendly, but also reliable; it integrates with an FDA-cleared and CE-marked viewer. These credentials make it perfect for review purposes and primary diagnoses. Moreover, our solution offers both automated and semi-automated workflows, further enhancing its adaptability. With its ability to support AI biomarkers, our platform is also ideal for training and validating new algorithms.

Enhanced Adjudication Process
Our platform streamlines the adjudication process, reducing manual effort and improving efficiency. Adjudicators can easily access the project progress and review data, making informed decisions in a timely manner. The platform provides a comprehensive project management view, enabling efficient progress tracking and monitoring of every project.


Cloud-based Infrastructure
Our platform provides seamless access to the imaging data and forms from any browser. Whether readers, project managers, or adjudicators are working remotely or in different time zones, they can securely access the platform and collaborate in real-time. Ensure smooth operations for projects of any size.


Streamlined Workflow for Readers
Our platform offers a user-friendly interface that allows readers to quickly log in and access their personalized work list. With a focus on simplicity, readers can efficiently navigate through their tasks, focusing solely on performing measurements. The platform automatically captures and adds the data to the corresponding forms, reducing manual data entry and ensuring accuracy.


Collaborative Environment
Our platform fosters collaboration among readers, project managers, and adjudicators. Each stakeholder has a designated view tailored to their specific roles and responsibilities. This allows for efficient communication, feedback exchange, and decision-making throughout the central review process.


Customizable Forms
Our customizable forms come with an auto-fill feature that streamlines the process of entering measurements. As you carry out measurements, the system intuitively populates the appropriate fields in the form. This smart functionality not only enhances efficiency but also minimizes the risk of human error, thereby ensuring the reliability of the recorded data.


Secure and Auditable
Our activity logs and e-signatures accurately document key process steps, establishing a chronological record of platform activities. This invaluable resource can be utilized to detect potential security breaches, monitor productivity, optimize processes, and ensure regulatory compliance.