Improve outcomes for your clinical trial while improving speed and reducing costs
Our powerful cloud-based software solutions enable you to reduce unwanted variables and easily overcome data management, compliance, workflow, and biomarker analysis challenges.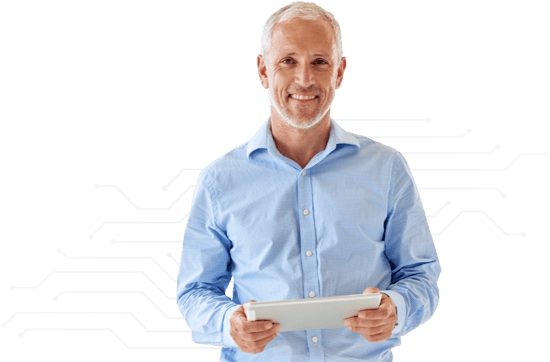 Simply and easily run your imaging based clinical trial studies on our globally scalable cloud-based software platform.
Take advantage of our in-house neurology expertise to customize and optimize the set-up and performance of your CNS trial.
Leverage our AI-powered data collection capabilities to automate compliance, modality tagging and quality checks.
Apply AI analysis tools from our extensive catalog to consistently measure biomarkers.
Easily collaborate with your sites and generate clear and compelling reports.
We can help you overcome many of the obstacles facing neurological clinical trials

Explosion of Imaging Data
There is an explosion of imaging, clinical and real-world data that is inherently complex and difficult to manage, particularly in the case of medical imaging.

Enormous Trial Costs
Difficulties and complexity in establishing, validating and managing sites and selecting the right patients can drive trial costs into the millions of dollars.

Waste of Precious Time
Successful completion of a clinical trial can take years. Trial complexities often result in costly delays, while 1 billion+ neurology patients await treatments. (1)

Low Success Rates
Less than 6% of phase 1 trials go on to be FDA approved (2). Unwanted variables such as inconsistent reading, missed scans, and inconsistent quality or protocol adherence contribute.
The QMENTA Clinical Trial Suite provides end-to-end clinical study support. We work with you to craft a custom solution that fits your specific requirements
Communicate Trial Outcomes Easily and Effectively with High Quality Automated Visual Reports
Produce clear and consistent and easily shared reports on the outcomes of your patient study, with exportable PDF reports that summarize analyses in a visual and concise way.
Typical reports include image orientations (coronal, sagittal, etc.) with clearly marked lesions or other relevant features, with tables capturing the main quantitative outputs on measurements including region volumes, number of lesions or longitudinal changes.
Easily export quantification results in CSV format.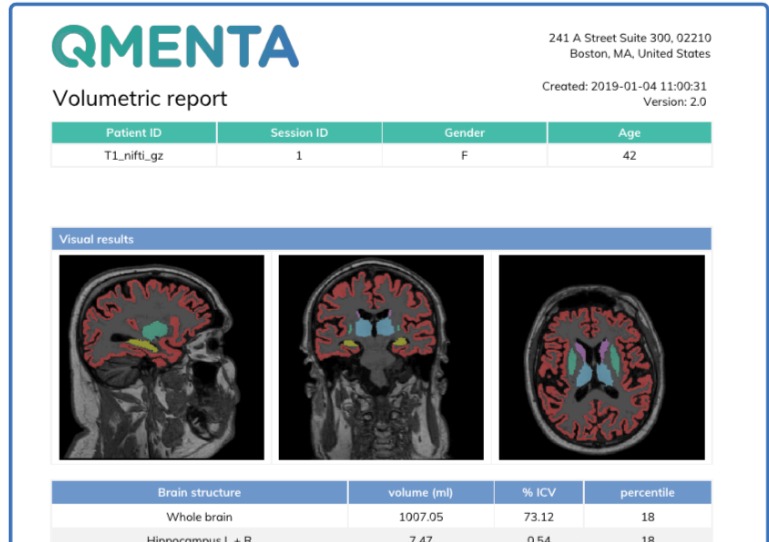 Flexibly set up your trial locations, sites, timepoints and subjects globally.

Create automated personalized and team workflows

Control data visibility, operations and optimize team collaboration with customizable access & location settings
Apply the AI Biomarker Tools and biostatistical analyses needed and m

ake longitudinal comparisons to objectively measure treatment efficacy over time

Access the most advanced imaging data sets, with over 10 million images exchanged or stored on our platform to date
Rapid Site Set-Up and Patient Controls
Quickly set-up, calibrate and validate sites globally, irrespective of modality, vendor and model.

Utilize disease biomarker analyses to improve patient inclusion or exclusion eligibility

Reduce costly patient drop out with fast patient rescanning requests
Smart Data Collection & Management
Simply and easily upload data via AI powered drag and drop browser upload, our batch file AI Uploader Tool, Python API, EDC or PACS Nexus integration

Automatically aggregate, anonymize, quality assess and classify large amounts of multi-modal and multi-vendor imaging and associated clinical data

Transfer data between sites & CRO in a compliant and secure manner
Highest Standards of Compliance
Compliance and security certifications are built-in: FDA 21 CFR Part 11 & 820, Annex 11, GDPR, IEC 62304, ISO 13485:2016 and HIPAA
Integrated Personal Health Information compliance with de-identification done within your firewall, automated removal of DICOM tags, offset dates and image de-facing
Audited and approved vendor for CROs
Expert Guidance & Support
Our solutions are purpose-built by imaging and data science experts.

We offer high quality Central Reading Services easily facilitated using our network or expert radiologists or your own
Our highly credentialed team of experts are always on hand to ensure your trial is set up for success and to help improve your outcomes
Cost savings in imaging collection and storage (3)
Cost savings in advanced image analysis (4)
Time savings by automated advanced image analysis (up to 98%) (5)
Site burden reduction (6)
Arena International, Facts about Clinical Trials
QMENTA calculation compared to cost of local computational resources
C

omparing the average hourly cost of radiologists vs. QMENTA's computational cost

C

omparing hours spent by radiologist vs. tool compute time

As reported by Amylyx Pharmaceuticals CSO