Neuroimaging for Neuro Oncology Research
Neuroimaging biomarkers and dedicated assessment tools to quantify the characteristics of tumors: Blood flow, volume, and to differentiate the tumor, and non-tumor regions.
An estimated 84,170 people will receive a primary brain tumor diagnosis in 2021, and an estimated 25,130 will be malignant. Glioblastoma is the most commonly occurring primary malignant brain tumor. Magnetic resonance imaging (MRI) and computed tomography (CT) are the assessment imaging tools of choice to evaluate neuro oncology. Biomarkers are increasingly important tools to incorporate in brain tumor neuroimaging analysis.
RANO Assessment Tool
Easy-to-use RANO assessment tool where the workflow automatically sorts the available time points. Depending on whether the analyzed session is the first time point or a follow-up, it generates a specific configuration for the next steps in the assessment.
In the viewer, the user can draw callipers (two perpendicular rulers) over the structures of the image. If a previous session was already processed, it will show the images and callipers of the previous session as well, to serve as a reference.
Finally, the tool will set some metadata/eCRF fields depending on the sum of products of the calliper of the current and previous (if existing) sessions.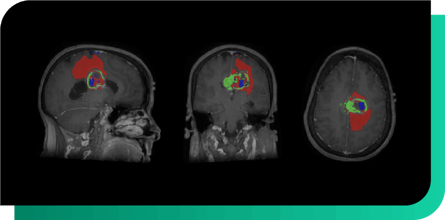 Brain Tumor Volume Quantification
AI-powered brain tumor auto contouring solution. It computes the multi-regional segmentation of gliomas and glioblastomas from contrast-enhanced imaging using deep neural networks. The Q-BTS segments a tumor into necrotic regions, enhancing regions and regions of edema using T1 weighted pre and post-contrast images and T2 weighted FLAIR images, providing volumetric and radiomic information for each region. This allows automated monitoring of tumor progression.
Radiomics
Extracts a series of radiomics features over different tissues and regions of interest. It is especially thought for, but not limited to, oncology images characterization. Key Features: First Order Features, Shape Features, Gray Level Co-occurrence Matrix (GLCM), Gray Level Size Zone Matrix (GLSZM), Gray Level Run Length Matrix (GLRLM), Neighbouring Gray Tone Difference Matrix (NGTDM), Gray Level Dependence Matrix (GLDM), Wavelet, Laplacian of Gaussian (Needs extra parameters to be set), Sigma, Filter width, Logarithm, Exponential.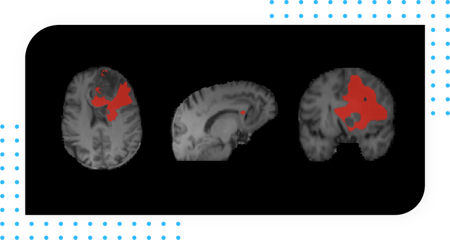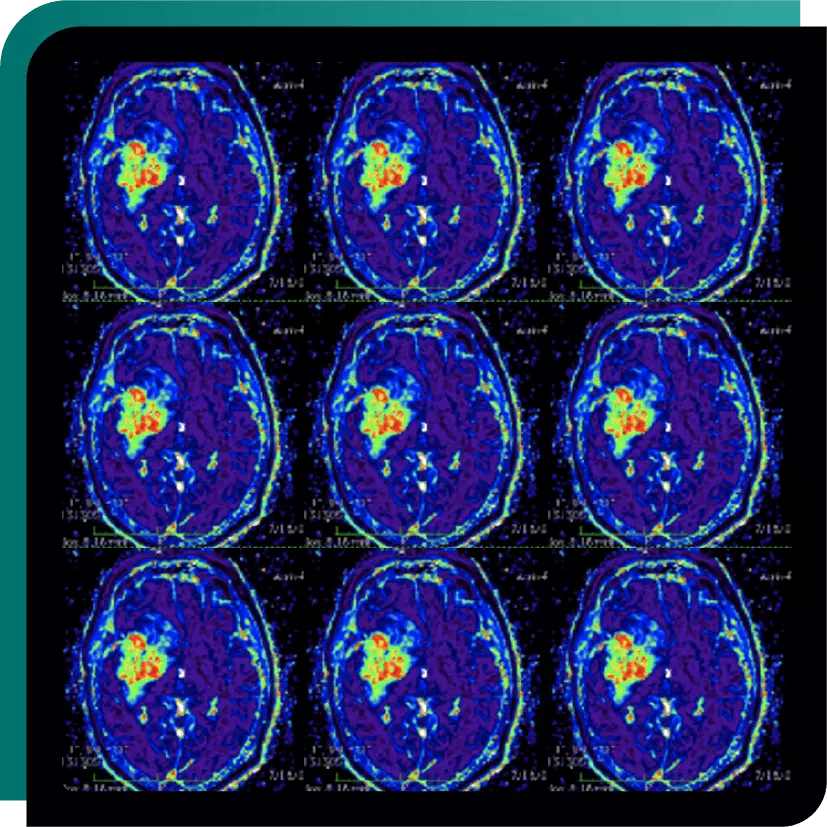 IB DCE™
IB DCE™ software analyzes conventional T1 weighted images and generates an array of relevant perfusion and permeability parameters. This tool provides the fast generation of perfusion parameter maps (Ktrans, Ve, Vp, T10, Initial Slope, Time to Peak (TTP), Peak Enhancement, initial area under curve (IAUC). It features an automated AIF/VIF selection, and an additional QA step for the review of selected points with the option to manually change such points.IB DCE™ v2.0 software analyzes conventional T1 weighted images and generates an array of relevant perfusion and permeability parameters. Employing the extended Tofts, Tofts, and Patlak models, contrast agent permeability analysis is now intuitive and designed with the same user interface as other IB software products.
Gadolinium deposition
QMENTA has developed an automated quantification pipeline to measure alteration in the magnetic properties of tissue due to gadolinium retention by combining automated segmentation with quantitative maps. This enables analysis of gadolinium retention over the course of time in patients undergoing contrast-enhanced imaging.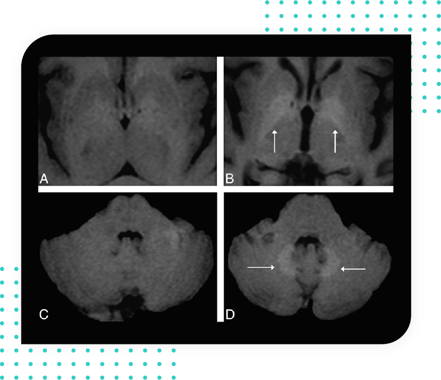 J. Ramalho, et al. "Gadolinium-Based Contrast Agent Accumulation and Toxicity: An Update". American Journal of Neuroradiology (2016).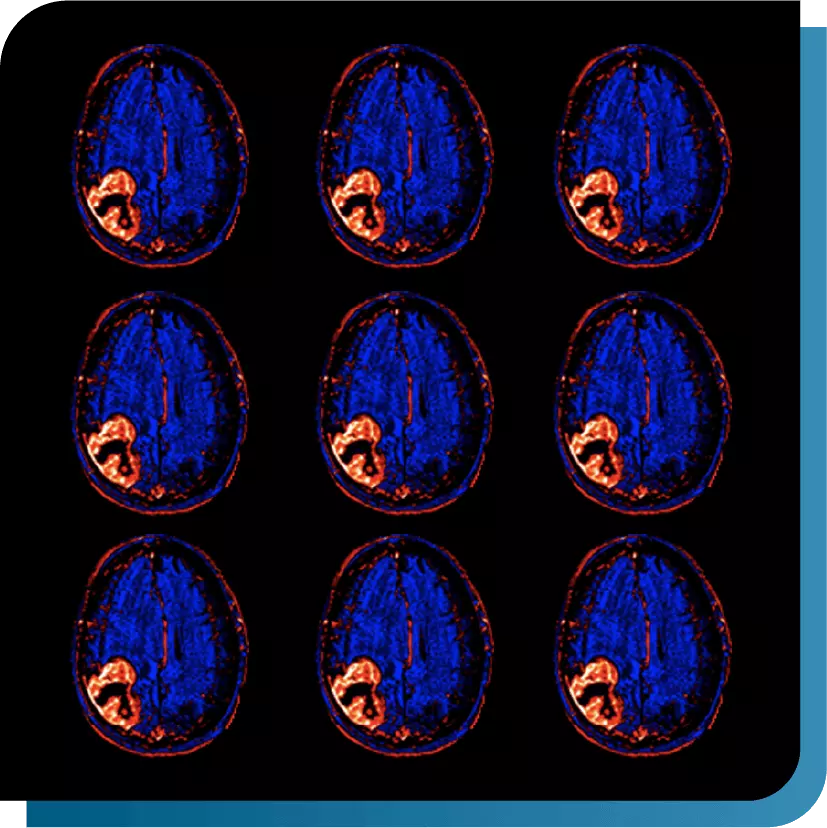 Contrast enhanced imaging – IB Delta Suite™
T1 weighted imaging pre-post contrast Delta T1 quantification differentiates perfused and non-perfused regions of tumor tissue and allows for monitoring of tumor changes in patients treated with anti-angiogenesis agents.(37, 38)
Perfusion imaging – IB Neuro™
IB Neuro™ v2.0 automatically analyzes dynamically acquired MR datasets and generates parametric perfusion maps quantifying changes in contrast over time. Advancements in IB Neuro are designed to fit routine clinical and research workflow and address advanced clinical and research needs.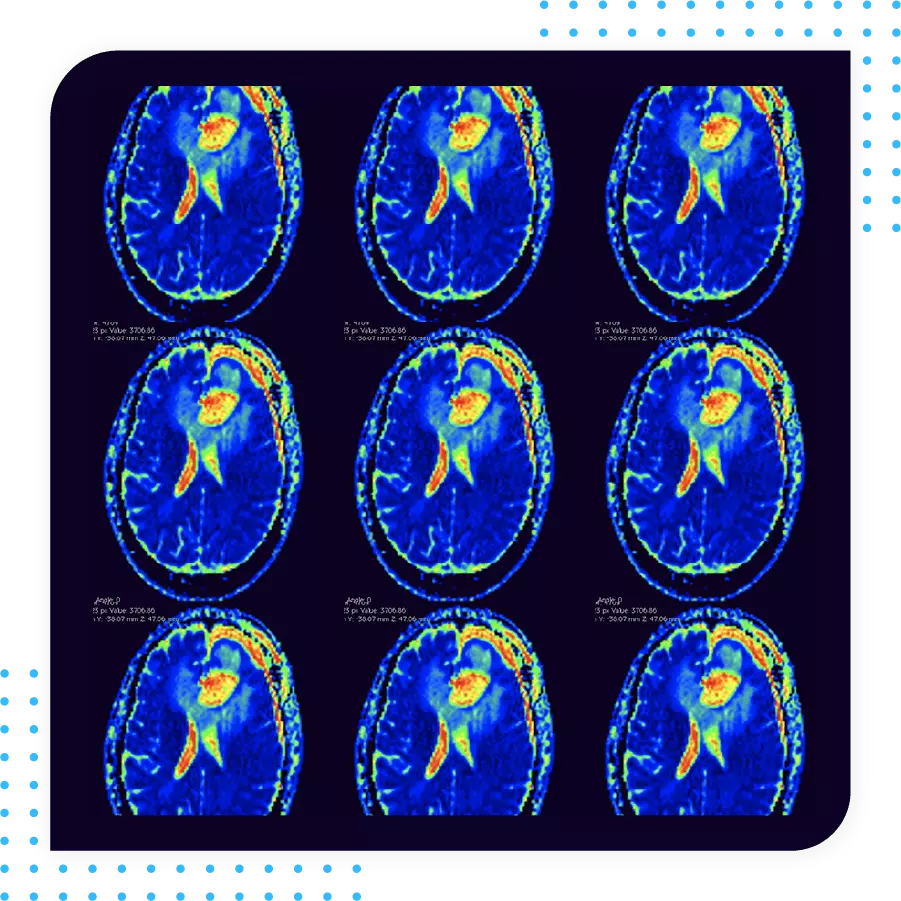 IB Diffusion™
IB DiffusionTM v2.0 is software that analyzes MR diffusion-weighted images (DWI) and generates Apparent Diffusion Coefficient (ADC) maps. ADC values have been shown to be useful in the initial diagnosis and treatment monitoring of all solid tumors.
37. Warmuth, Carsten, Matthias Gunther, and Claus Zimmer. "Quantification of blood flow in brain tumors: comparison of arterial spin labeling and dynamic susceptibility-weighted contrast-enhanced MR imaging." Radiology 228.2 (2003): 523-532.
38. Jackson, Alan, and David L. Buckley. Dynamic contrast-enhanced magnetic resonance imaging in oncology. Ed. Geoffrey JM Parker. Berlin: Springer, 2005.
39. Çoban, G., et al. "Prognostic value of dynamic susceptibility contrast-enhanced and diffusion-weighted MR imaging in patients with glioblastomas." American Journal of Neuroradiology (2015).
40. Lee, B., et al. "Clinical Value of Vascular Permeability Estimates Using Dynamic Susceptibility Contrast MRI: Improved Diagnostic Performance in Distinguishing Hypervascular Primary CNS Lymphoma from Glioblastoma." American Journal of Neuroradiology (2018).