Learning From the Pandemic.
There has been a massive acceleration of digitally driven innovation recently and the biopharma industry is no exception. We've witnessed incredible speed in drug development most apparent in the novel vaccines developed and approved for COVID-19. This has been accompanied by a surge in the use of data and analytics and digitally enabled collaboration and partnering as evidenced in the virtualization of clinical trials during the pandemic. It appears that biopharma has shifted into a higher gear when it comes to its digital future.
QMENTA CCO Glenn Thomas recently interviewed biopharma industry thought leaders Chris Llewellyn and Kent Leslie to gather their insights on some of the big shifts in our industry. Chris Llewellyn is a Senior Partner at McKinsey leading digital and artificial intelligence work in healthcare and life sciences. Kent Leslie is the CSO at Amylyx Pharmaceuticals where he oversees the design and concept of all their pre-clinical scientific studies and academic collaborations as well as identifying new therapies and applications for analytics.
According to Chris Llewellyn, the biopharma industry has not been a shining example of digital and advanced analytics readiness and adoption. However things change quickly given the right set of circumstances, and as we saw during the COVID-19 pandemic, companies pivoted across their product continuums to keep the industry functioning, keep clinical trials going and save countless lives through rapid development of novel effective vaccines. "Biopharma is out of the starting blocks now in this digital race with a massive tailwind behind it," Lewellyn commented, brought about in large part by the pandemic. And, the good news is, there is an enormous amount of opportunity ahead.
When Amylyx first started thinking about adopting digital technologies years back, Kent Leslie said they spoke to people in the community about what the FDA or potential large pharma suitors were going to think about it. Would they accept the data? This uncertainty slowed adoption in the past, but now they see that recognition of the value of digital tools and technologies by key stakeholders is greatly increasing.
Citing an "on the ground" example spurred by COVID-19, Kent shared that Amylyx had to make a shift in their Alzheimer's trial by switching patient cognitive tests out of the hospital and instead conducting them via Zoom. The need to pivot during the pandemic resulted in a tremendous amount of innovation in the company over the last 12 months, according to Kent, more than they had experienced in the last 5 years.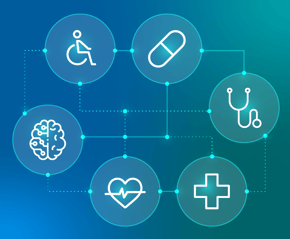 Book a 15 minute call, and find out how to improve your Neuroimaging program, making it:
Faster
More Cost Effective
Risk Mitigated
Quantitative and Objective
Building on Positive Use Cases to Scale Capabilities
Undoubtedly there are challenges that could stall innovation and digital transformation progress. The answer in part is to build opportunities on the back of some of the positive learnings from the pandemic.
Although regulation is inherently (and appropriately) conservative, Regulators worldwide have shown a willingness to innovate. Sponsors working in partnership with Regulators on digital tools to accelerate access to patients, and agile redesign and acceleration of clinical trials using real-time or nearly real-time data, are two examples.
Another opportunity is moving from experiments or pilots that leverage data and digital technologies to improve discovery, clinical development and commercialization, to implementing truly scalable capabilities. McKinsey has seen companies start to institutionalize in this way. The profiles of CIOs in life sciences organizations have shot up in recent years. Driving cloud and data strategies as well as the use of advanced data science technologies have started to become important topics at the C-level table.
Companies are choosing to collaborate with partners to implement digital technologies, led by individuals who understand how the tech agenda can support the business agenda. Across the discovery, development and commercialization continuum a series of curated microservices are emerging that are either internally developed, externally sourced or partnered technologies. "This could be the biggest unlock for the industry over the next few years," according to Llewellyn. "Pharma companies should have a view on how quantum computing is going to affect the way products are developed or the way translational medicine works in the future," he added.
Amylyx experienced positive results in the use of AI-powered capabilities for their neuroimaging based clinical trials for Alzheimer's. Working with QMENTA, they conducted real-time analysis of multi-sequence MRI scans as they were uploaded to QMENTA's cloud platform. Scans were automatically recognized, classified, de-identified and quality checked for artifacts or other defects. If new scans were required they could be done while the patient was still present. This resulted in significant time and cost savings, and decreased site burden.
Addressing Productivity Challenges
Right now, the challenge facing a lot of scientists and others involved in clinical research particularly clinical development are very simple, extremely frustrating productivity challenges. Some key areas identified where digital transformation can be deployed now to gain significant ROI and spur further adoption included:
1). Identifying the right sites to give you the highest quality patients and fastest patient recruitment,
2). Improving clinical trial efficiencies by applying AI for real-time data collection and classification, streamlining workflow processes and advanced analyses to gain an understanding of disease progression and treatment,
3). Improving the interface with HCPs (Healthcare Providers) and their patients by getting the right information to each party at the right time, providing products to the right patients and supporting treatment adherence,
4). Upping manufacturing and supply chain efficiencies and advance product manufacturing innovation especially for complex biologics such as cell and gene therapy production and supply logistics.
Speeding Transformation Through Collaboration and Partnerships
COVID-19 has spurred a lot of cooperation and change in the biopharma industry. As companies increasingly realize the value of digital transformation, they are sharing ideas and best practices via webinars and other communication exchanges about where digital technologies can be most useful based on their experience.
New services players and existing vendors are stepping up to develop high quality digital and analytical services and offer them to industry in user-friendly and turnkey means, such as delivering them via cloud computing.
All this paves the way for a brighter future for biopharma and its ability to deliver timely, cost effective, more personalized treatments and cures in an optimized, digitally driven environment.
"The contribution that the life sciences has made during the course of COVID-19 is phenomenal, and it's a moment in time that we can build upon and really show the world what the industry can do that benefits all." Kent Leslie, CSO, Amylyx
To listen to the hour long webinar visit our webinar page: https://www.qmenta.com/webinars. For a 5 minute recap version click here.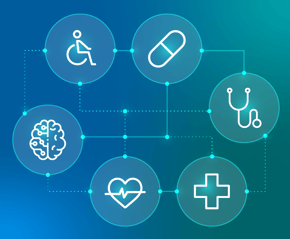 Book a 15 minute call, and find out how to improve your Neuroimaging program, making it:
Faster
More Cost Effective
Risk Mitigated
Quantitative and Objective