QMENTA Appoints Rob Bancroft as New Chief Executive Officer
Paulo Rodrigues Takes the Helm as Chief Technology Officer
Barcelona, Spain. Release: January 22, 2020. For Immediate Release. QMENTA, a leading innovator in cloud-based, AI solutions for medical imaging, today announced the appointment of Rob Bancroft as CEO. Paulo Rodrigues, a founder, and former CEO has now assumed full-time responsibilities as CTO, allowing him to focus wholly on continuing to develop QMENTA's technology platform and product offerings.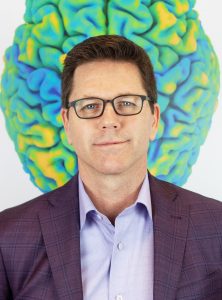 Mr. Bancroft has over 25 years of healthcare and life sciences experience with a focus on enterprise strategy, market development, and commercial scale-up. Throughout his career, he has led the expansion of several businesses,
leading to significant revenue growth acceleration. One example of this includes BOTOX, where he implemented various strategies to transform the use of the drug from an injectable used only by specialists to a mainstream therapeutic tool across several specialties.
"I am honored and excited to lead QMENTA into its next phase of evolution. The company has built a strong state-of-the-art technology, and also has a compelling vision to make a major contribution to the eradication of brain disease, something that will touch virtually everyone in some way during their lifetime. The opportunities within the medical imaging market are vast, but to seize them, we need to focus clearly, innovate rapidly, and develop a targeted, scalable commercial solution. Going forward, we will be concentrating even more of our efforts on building strong relationships with our clients and adopting a customer-centric philosophy at all levels of the company" Rob said.
Currently, the adoption of AI in medical imaging is in its early stages, but is growing at a rapid pace and continues to evolve. Rob will be responsible for developing and implementing a strong go-to-market strategy for QMENTA's technologies.
Commenting on Behalf of QMENTA, Paulo Rodrigues said:
"We are thrilled that Rob has decided to join our team with his background in commercialization and strategy. It's an exciting time for QMENTA, and together we will be able to continue to drive innovation both in terms of products as well as the core technology, ensuring we are offering our clients the best possible solutions."
About QMENTA
QMENTA is a market leader in cloud-based, AI solutions for medical imaging in the Digital Health tech industry. QMENTA was founded in 2013 with the goal of turning quantitative imaging into an everyday routine process, for the detection, prediction, and prevention of diseases. QMENTA's cloud-based solutions and AI-powered biomarkers allow clients and partners to streamline, store, manage and analyze medical imaging data empowering its users to make objective and informed decisions at all stages of clinical trials and clinical care with ease. Headquartered in Boston USA with an EU office in Barcelona, QMENTA has an international team of experts, with over 100 years of combined experience in neuroimaging, image processing, AI/ML, software engineering, compliance, and business development.
###
Contact Info:
Name: Paulo Rodrigues
Organization: QMENTA
Email: paulo@qmenta.com