News
Cloud AI Medical Imaging Expert QMENTA, Inc. Announces FDA 510(k) Clearance of Platform at RSNA 2021
Boston, MA, 29/11/21 QMENTA announced today that the U.S. Food and Drug Administration (FDA) has granted 510(k) clearance for its QMENTA Platform for Care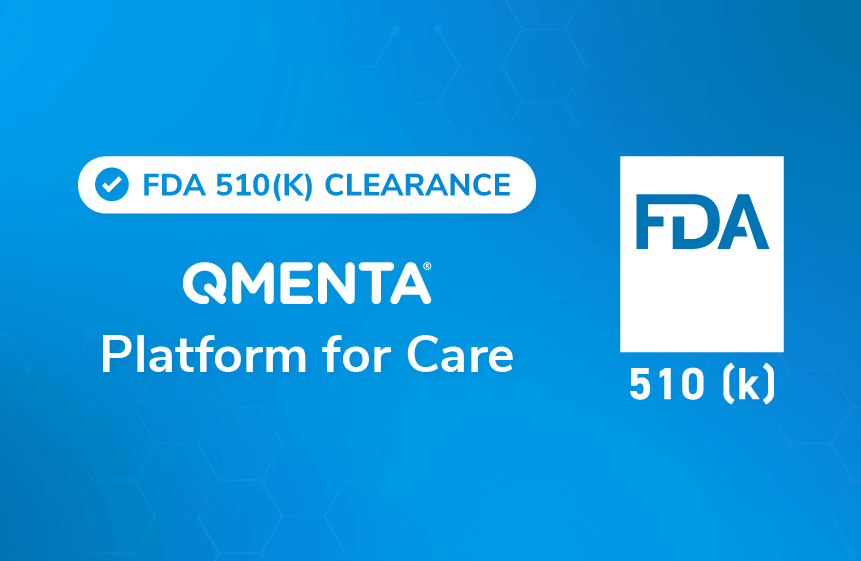 Cloud AI Medical Imaging Expert QMENTA, Inc. Announces FDA 510(k) Clearance of Platform at RSNA 2021

QMENTA executives will be available in booth 6633 during the conference. Schedule a meeting with QMENTA at RSNA to learn more.
Boston, MA, November 29, 2021 - QMENTA announced today that the U.S. Food and Drug Administration (FDA) has granted 510(k) clearance for its QMENTA Platform for Care. This 510(k) clearance enables suitably qualified physicians to use the platform to manage imaging and other data across a network via web and customized user interfaces, and process it by accessing and using integrated AI marketed applications for imaging analysis and reporting.
The 510(k) clearance (K202718) for the QMENTA Platform for Care (formally named The QMENTA Care Family Platform ) is one of the more recently highlighted Medical Devices reviewed and authorized by the FDA in their tracking of Artificial Intelligence and Machine Learning (AI/ML)-Enabled Medical Devices, a link to which can be found here.
QMENTA's AI-powered cloud-based Platform provides radiologists and neurologists with the tools to simply and easily manage Imaging data and quantifiably analyze scans using advanced AI algorithms - faster, more accurately and at lower cost.
Using the QMENTA Platform for Care, clinicians can simply, easily and compliantly manage imaging data and apply marketed AI-enabled tools to visualize and gain quantified insights into features and changes in the brain. These marketed AI-enabled tools are hosted in the QMENTA Medical Imaging AI Analyses Catalog, a comprehensive set of over 50 marketed and research-only AI algorithms from verified, trusted scientific leaders focused on neurology. These world-leading AI algorithms and biomarker tools assist with quantification and analysis of disease onset and progression assessment, diagnosis and prognosis.
QMENTA CEO, Vesna Prchkovska said "FDA clearance for the QMENTA Care Platform is an exciting milestone for the industry, opening and democratizing access to the latest AI-powered Imaging management and analysis tools".
About QMENTA
QMENTA provides a single, end-to-end solution for AI-powered biomedical imaging import/export, data management and central radiology reads using a single viewer and advanced biomarker analysis. Our secure, compliant, cloud software enables aggregation and integration with medical image Picture Archiving and Communications (PACs) tools, significantly reducing variability, time, cost and error. QMENTA is fully compliant with industry regulations: ISO 13485:2016, FDA Title 21 CFR Part 820&11, Annex 11, GxPs, EU regulation 679/2016 (GDPR) and the US Health Insurance Portability and Accountability Act (HIPAA). The QMENTA Care Platform Family is 510(k) cleared by the FDA to aid suitably qualified Healthcare Providers to increase neurology evaluation and improve diagnosis confidence and accuracy.
QMENTA is a privately held, venture backed company headquartered in Boston, Massachusetts. The company was named the Stevie Awards Gold winner for Female Entrepreneur of the Year and Silver Award Winner for Startup of the Year in September 2021 and "Best New Radiology Vendor" in 2017.