Fast Study Setup For All Kinds of Clinical Studies
Minimize time spent on building and managing your clinical studies
Our platform facilitates the management of all kind of imaging clinical studies, small, large, center or multicenter, centralized or decentralized across all over the world. We offer a series of capabilities that facilitate an effective clinical study management and ensure high-quality data capture for your clinical investigation. Our expert team will provide guidance on brain image collection, site training and protocol adherence.

Fast Study Setup For All Kinds of Clinical Studies
Quickly set up your clinical study database, for both small and large multicenter studies.
Retrospective or prospective studies
Single team or multiteam studies
Single or multi-center collaborations
Cross-Sectional or longitudinal studies (multiple time points)
Support for Patient registry databases and open dataset initiatives
Use multiple data centers, and cloud providers (AWS, GCP, …)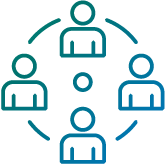 Manage Sites and Collaborators
Control who has access to every clinical study and give them the appropriate capabilities according to their role or job function. Have full control of what your collaborators see, edit or fill out. These permissions can be set or adjusted at any point in time.
Set up granular user-rights for admin, data management, monitoring or custom
Provide role-based access to imaging as well as eCRFS visibility
Custom and controlled user access for image processing or central reading
Add unlimited collaborators
Use one QMENTA account for all your studies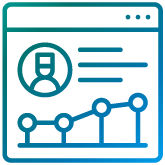 Flexible Medical Imaging Workflow Management
Configured end-to-end medical imaging process workflow, from data acquisition, to image processing, and study closeout. Automate Clinical Data Validation, Brain Image Analysis or Central Reading.
Fully configured end-to-end imaging process workflow, from data acquisition, to image processing and study closeout.
Automated de-identification and QC automation
Combine multiple AI-based image analysis tools
Image review and adjudication tasks using different integrated viewers
Complete support for both Imaging and eCRFs
Audit trail, storage, reporting and archival