QMENTA's Key Enhancements Are Critical Enablers of Success in Clinical Studies
At QMENTA, we're on a mission to empower breakthroughs that make brain diseases a thing of the past through our AI-powered neuroimaging and clinical data management and analysis capabilities.
The QMENTA Platform streamlines image management workflows to make it easier to transfer, manage, analyze, and read medical images for your clinical studies providing more accurate results, faster and with less risk. Our solution has been purpose-built for healthcare data from the outset with the highest quality, privacy and security standards in the industry. We have always adopted a culture of continuous improvement as we work closely with leading global CROs, biopharma and neurology experts, and we recently introduced several new improvements to make Data Protection and Data Integrity even more streamlined and easy to implement.
Clinical data management is resource intensive and potentially comes with large compliance, cybersecurity, scientific and regulatory risks. Imaging based studies in particular involve collecting, processing and securing vast quantities of data.
Let's take a typical Alzheimer's Disease phase II clinical trial, as an example:
Requires the collection of multi-modal imaging data (MRI, PET);

includes 100-200 participants, with multiple acquisition time points across 2 years;

from dozens of different sites across the globe (US, EU, Australia, etc.).
The study involves several imaging endpoints:
Changes of total brain volume and hippocampal volume as detected in volumetric MRI;

changes in white-matter quality measured by Diffusion Tensor Imaging (DTI);

brain amyloid PET levels will be measured with Positron Emission Tomography (PET).
As with this example, we see clinical trials becoming more complex, personalized and challenged with an explosion of patient data. Collecting, managing, quality control and reading of imaging data across multiple sites, scanners, and file types can be time-consuming, resource-intensive and error-prone. Furthermore, CROs and sponsors have to comply with the highest security and regulatory standards, in a globalized environment. In the U.S., the Health Insurance Portability and Accountability Act (HIPAA) and Health Information Technology for Economic and Clinical Health (HITECH) are the priorities, whereas, European trials look to the EU's recent General Data Protection Regulation (GDPR).
Having assurance of privacy, security and integrity in your data management and user access controls is critically important especially as sponsors transition more and more to decentralized trials and researchers rely on global research collaborations.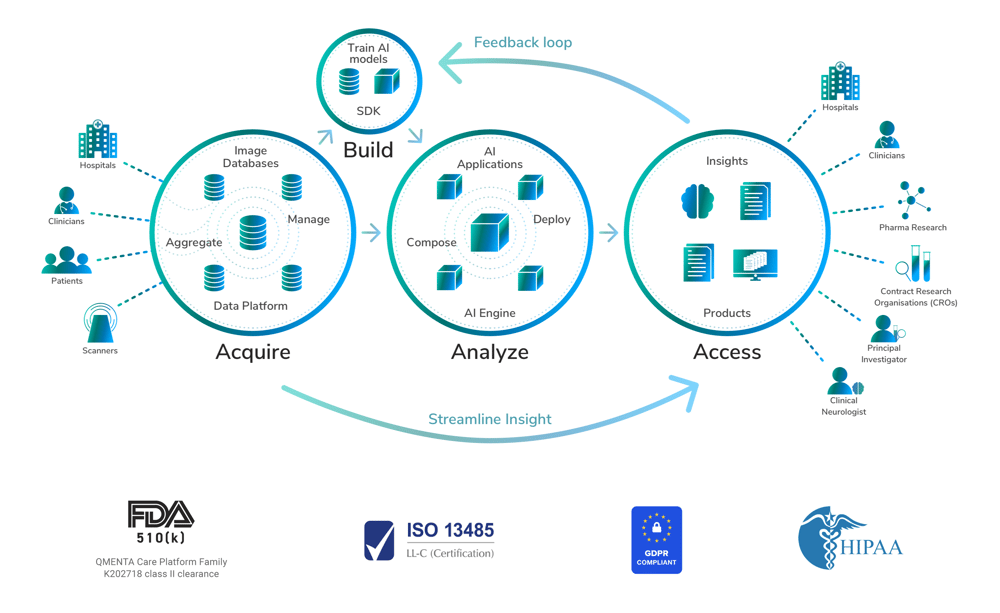 Global Clinical Trials require a unified, data-centric approach to privacy, security, and integrity.

COVID-19 accelerated our transition to digital-based methodologies. Tremendous opportunities abound but it requires highly technical and consistent standardized methods to maintain the highest data integrity and manage risks given the huge investments made by biopharma sponsors, CROs and research entities. The COVID-19 Global Data Sharing Initiative which leverages the QMENTA platform is a fantastic example of how to set up a GDPR-compliant data collection, and processing pipeline.

Other key benefits of a risk-mitigated strategy include substantial time and cost savings, accelerated milestones and approvable submissions data. Depending on your organizational focus and its resources and goals, various strategies for success can be undertaken.

Benefits to be reaped include highly usable and approvable data
At QMENTA, by design, we streamline medical imaging studies, end-to-end. Aggregating and integrating very complex imaging data in the cloud and making it highly usable for activities such as AI-enabled imaging analysis using biomarkers is essential to scientific endeavors. Optimizing compliant data collection, automated recognition and classification, de-identification, integration and quality assurance is intrinsic to successful outcomes. But just as important are some other mission critical Data Protection factors which our recent release further strengthened.
QMENTA's 2.0 Platform release deeply enhances security and GxP compliance



Key highlights include:





Enables Audit Readiness:

You can easily demonstrate compliance with comprehensive and detailed audit trails capturing every event in data history, including document approvers, status changes, execution of a signature, authentication, and more.



Improves GxP Quality and Compliance:

We improved several features that help assure GCP compliance by the investigator and/or sponsor.



Provides Custom Electronic Signature and Manifestation:

Approve data upload using electronic signatures and manifestations that are compliant with FDA Title 21 CFR Part 11 and Annex 11.



Facilitates Two-Factor authentication (2FA):

Besides having Password Security Policies for users to access and provide e-Signatures in QMENTA Platform, 2FA can now be enabled for a study, requiring users to authenticate via SMS code.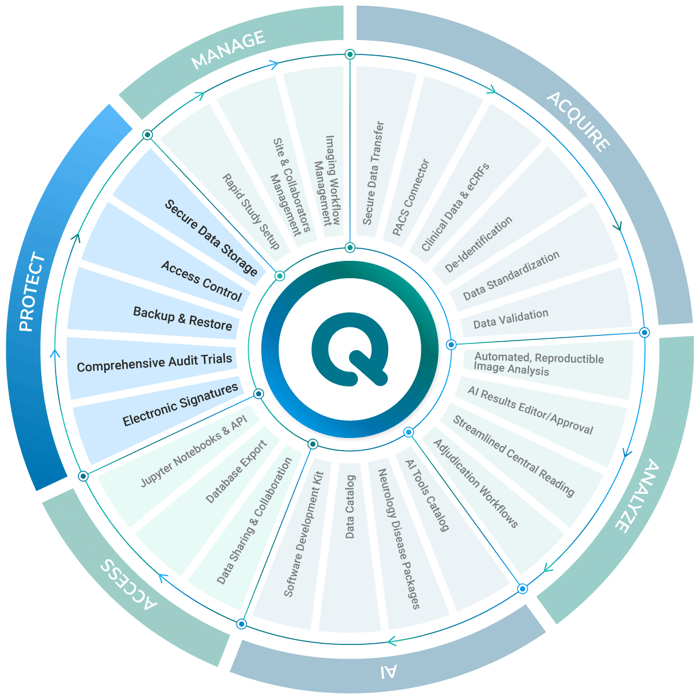 QMENTA Neuroimaging Software Solutions for Global Clinical Trials: Cloud-based, AI-powered.
Very significant ROI and outcomes are to be gained from a secure, cloud based approach
QMENTA's recent 2.0 platform release focused on key enhancements to our security capabilities so that our clients and strategic partners can have full confidence in the level of risk mitigation they have working for them to accelerate high quality results. More importantly, combined with the data aggregation and curation performed on our platform and high usability of the resulting data for analytical purposes, there is a huge amount of time and cost savings to be reaped. This allows companies to accelerate their digital transformation and speed to discovery and the clinic or market through a strategic, trusted partnership.
As always, an enormous thank you to our trusted users and partners who continue to help shape the future of neurology data management.
Interested to know more?
Get in touch with our team for a demo meeting or sign up and try it for free.