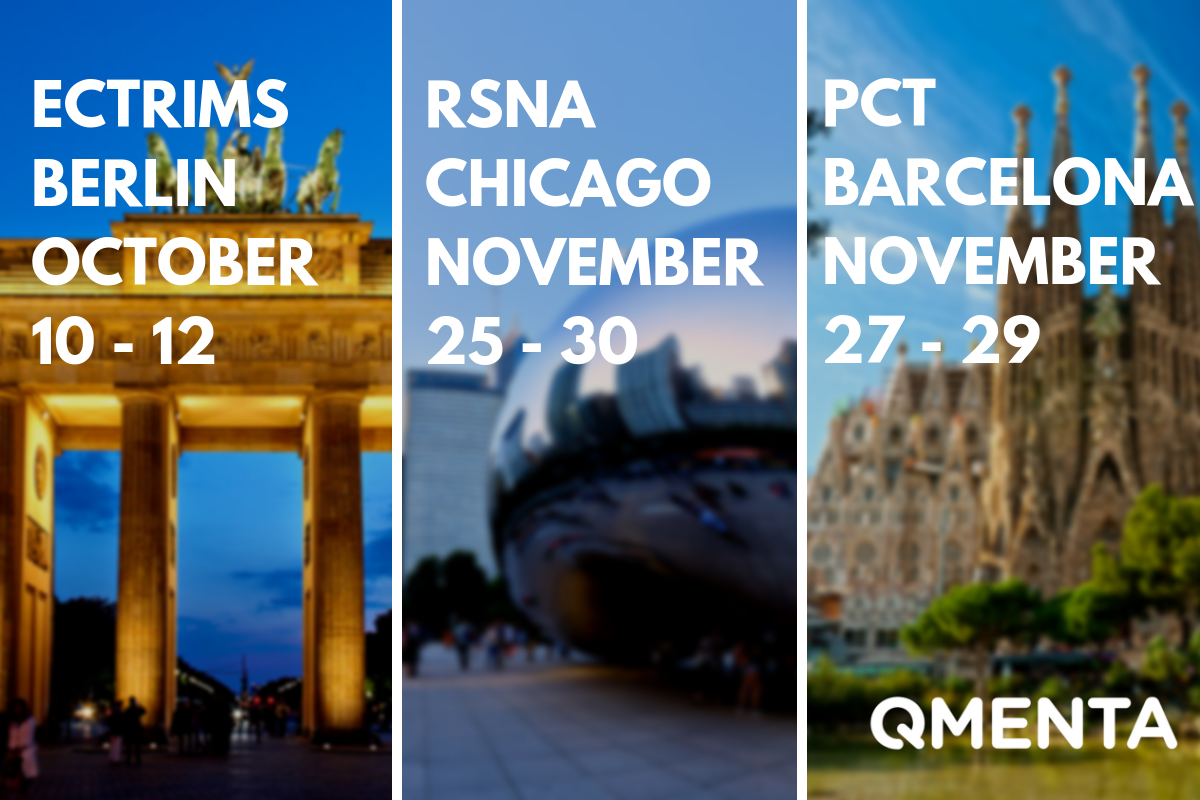 We are proud to announce that we will be exhibiting at:
ECTRIMS in Berlin from October 10th to October 12th,

booth C12

RSNA in Chicago from November 25th to November 30th,

booth 7665

PCT in Barcelona from November 27th to November 29th,

booth A14
The 34th edition of the ECTRIMS conference – the Congress of the European Committee for Treatment and Research in Multiple Sclerosis – will take place in Berlin this year. ECTRIMS has for long been devoted to creating connections between key stakeholders involved in research and treatments for MS. As new technologies are arising in the healthcare industry,
QMENTA's team is looking forward to meeting experts in MS research. We are committed to support research and drug designing thanks to our multiple tools implemented on the platform.
We recently published a white paper about how our platform has been supporting the MultipleMS project of Karolinska Institute & UCSF. MultipleMS is a large multi-site clinical research study – that will be aggregating 4000 images from 20 sites – aiming to develop novel personalised medicine approaches for multiple sclerosis (MS) patients. The strengths of the platform on this case is the facilitation of collaboration between researchers handling different types of data all over the world. The aim QMENTA for this project is to automate data management and analysis as much as possible with a customized workflow for MultipleMS.
If you are also going to attend the ECTRIMS Congress and want to meet us, book a meeting here or meet us booth C12
Radiological Society of North America (RSNA) will be hosting its 104th Scientific Assembly and Annual Meeting in Chicago. There, the QMENTA team will have the opportunity to both exhibit and meet state-of-the-art healthcare applications in radiology.
Recently, President of RSNA Vijay Rao, MD, is convinced that Artificial Intelligence will be the hottest topic at the conference as potential applications of AI in radiology for instance pattern recognition and helping with diagnosis of diseases could change the workflow of radiologists and make them more efficient, therefore increasing the quality of patient care.
If you are also going to attend the RSNA Annual Meeting and want to meet us, book a meeting here or meet us booth 7665
Alzheimer's disease (AD) is a tremendous unmet medical need, affecting over five million patients in the U.S. alone. Forecasts indicate that by 2050 that number may approach 16 million people. Alzheimer's disease is the 6th leading cause of death and represents $259 billion of direct healthcare costs in 2017, expected to reach more than $1.1 trillion in 2050.
Partnerships in Clinical Trials (Europe) is an event gathering key stakeholders in the field of clinical trials.
Our platform fits perfectly with the philosophy of clinical trials. We aim to streamline and accelerate the different stages of the drug design with our state-of-the-art solution.
If you are also going to attend PCT and want to meet us, book a meeting here or meet us booth A14