We're thrilled to be back at RSNA 2021, and it is very fitting that it is the first in-person event we have attended since the pandemic. QMENTA has been making tremendous progress on many radiology fronts to empower breakthroughs in CNS diseases by solving some of our clients' greatest challenges. We look forward to discussing them with you at the conference. Please be sure to check out our virtual press office which has company news, executive profiles and product and services content for the media and all attendees. You can also schedule a meeting with us in booth 6633 through that site. Here is a quick recap of the major news we will be broadcasting in concert with RSNA.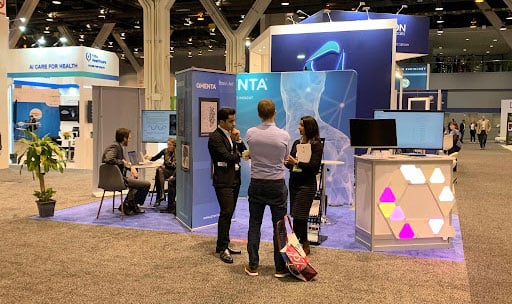 FDA 510(k) Clearance for QMENTA's Clinical Care Platform
The cloud based neuroimaging software solution enables any licensed health care provider to use the solution for the management of imaging and associated data and for the execution of FDA approved analysis tools all in a single approved system. Clinicians can simply and easily manage fully compliant imaging data, apply AI biomarker tools, visualize and gain consistent quantified insights into features and changes in the brain. The biomarker tools consist of world-leading industry standard and scientifically validated AI algorithms that assist with disease onset and progression assessment, diagnosis and prognosis.
Platform 2.0 Security & Data Integrity Enhancements
The QMENTA platform streamlines image management workflows to make it easier to transfer, manage, analyze, and read medical images. Our solution has been purpose-built for healthcare data from the outset with the highest quality, privacy and security standards in the industry. We recently introduced several new improvements to make Data Protection and Data Integrity even more streamlined and easy to implement. Learn more.
QMENTA Launches World Leading Catalog of AI Biomarker Algorithms
The QMENTA AI Tools Catalog and Disease Biomarker Packages is a first in industry solution that aggregates and curates industry standard and proprietary AI tools. These publicly available algorithms provide objective neurological disease diagnosis, brain structure change and disease progression tracking and endpoint identification for use in neuro research, clinical trial execution and ultimately patient care. In addition to one-stop access to best-in-class algorithms, these multiple point solutions are integrated and unified into disease-specific Biomarker Packages, initially launching for Alzheimer's Disease, Multiple Sclerosis and Neuro-oncology, making the choice of optimal algorithms clear and simple. Learn more.
Central Reading Services Enable Faster, More Accurate, and Lower Cost Radiological Reads
Many of our customers have found that they have not extracted the most value from past imaging-based studies and have come to us for help for their retrospective studies. Our library of over 50 biomarker tools coupled with our advanced central image viewer enable rapid expert image review, with non-subjective quantification, label editing, ROI drawing, annotations, synchronized volumes and visualization of dynamic sequences. QMENTA provides a unified solution where multiple different stakeholders can upload, access and read images using:
A single end-to-end solution with AI powered data classification;
using the same zero-footprint radiological viewer;
suitable for multiple therapeutic areas;
leveraging AI powered biomarker analyses;
and, our global network of expert readers (or use yours);
all helping to eliminate manual errors and variability while greatly reducing time.
QMENTA's EEG Data and Analysis Capabilities
QMENTA's platform is able to facilitate the management and analysis of Electroencephalography (EEG) signals, a non-invasive standard procedure for diagnosis of epilepsy and other brain disorders. Schedule a meeting to find out more.
Thanks for reading. We hope to see many of you at RSNA 2021, booth 6633, North Hall Level 3. Our attendees really look forward to some great conversations!
Vesna Prchkovska, PhD, CEO and Co-founder
Paulo Rodrigues, PhD, CTO and Co-founder
Landon McKenna, President, CBO and Co-founder
Guillermo GallardoPhD, Imaging Engineer
John Ciliberto, Business Development
Meet us at RSNA 2021!