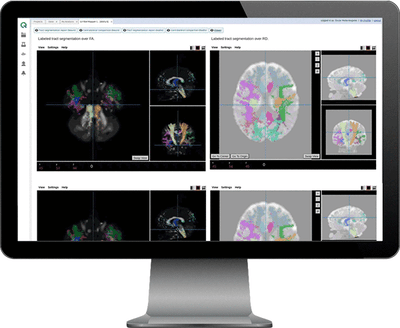 QMENTA Platform
An industry leading and simple-to-use software platform, purpose built by neuroimaging and data science experts to meet the distinct and challenging needs of neuroscience community. Optimized and tailored for your needs, whether you are conducting research, running clinical trials, at the point of care, developing novel algorithms or leveraging brain related data.
Platform Features and Benefits

Support Different Data Types
QMENTA's platform easily and automatically ingests multi-modal data, (including MRI, PET, CT, OCT and EEG) and accepts and analyzes a range of different data formats, including DICOM, NifTi, JPEG, PNG, TIFF, and VIDEO. For each session, uploaded files can be extended with additional metadata and clinical measurements depending on the needs of the study.

AI-Powered Data Upload
Conduct secure, smart data transfer from global locations. Easily transfer individual subject data via web browser, batch upload with the AI Uploader. Integrate with PACS Nexus or with a custom Python API.
QMENTA enables flexible digital data integration with PACS, EDC or eCRF through the API with the option to anonymize the data before it leaves the local server or when it arrives to the platform.

Automated Image Recognition
Upload and automatically classify, anonymize and quality check large amounts of imaging data from different locations in just one click.
Auto-tag files with our machine learning classifier to recognize the modality (MR, CT, PET, etc.) and the sub-modality (T1, T2, DTI, etc.) of the image upon upload.

Secure, Simple Collaboration
Add collaborators from anywhere in the world in seconds. Assign collaborators with optional predefined user roles and manage privileges with secure access controls. Benefit from built-in and tailorable work-flow processes that save time. Manage oversight of research projects, trials or care delivery through role based access.

Shareable Reports
Highly integrated data supports robust and flexible reporting options. Download page-format PDF reports that visually summarize patient information with the highest quality imaging and disease state data, slice views, and data tables. Easily export and download your quantification results in CSV format.

Data Protection, Privacy and Regulatory Compliance
QMENTA's platform is hosted on a cloud provider infrastructure with disaster recovery and business continuity and built-in compliance and security with top industry certifications including FDA 21 CFR Part 11 & 820, Annex 11, GDPR, IEC 62304, ISO 13485:2016 and HIPAA.
QMENTA helps to ensure data privacy and regulatory compliance with integrated de-identification, from within the originating centers´ firewall, including automated removal & replacement of DICOM tags, offset dates and image de-facing. The privacy of patients' Protected Health Information (PHI) is respected at all times with automated anonymization and end-to-end encryption of all uploaded data.

Automatic QC / Protocol Adherence
QMENTA provides an automated Protocol Adherence which validates the type of image, in accordance with pre-defined parameters.
For Research projects, streamline and increase the quality of data collection for machine learning tools.
For Clinical Trials, reduce the likelihood of imaging and clinical data diverging from the defined protocol and affecting the analysis thanks to our automated real-time notifications.
Adhere to country specific, role specific or other protocols with fully customizable set up. Our experts are always on hand to advise and guide you through the process.

End-to-end Image Analysis
QMENTA's platform provides multiple options to visualize, measure, classify and annotate medical image data.
We provide the perfect streamlined solution for collecting and annotating medical imaging data for machine learning projects.

Objective and Quantitative Measures
Use world-leading AI biomarkers tools catalog to extract objective and quantified measurements in minutes. Choose between local or external biomarkers and select proprietary or standard tools based on disease. Visit our Biomarker AI Tools Catalog for more detailed information.

Streamlined, Expert Central Reading
Radiologists can use the built-in clinical viewer to visually interpret imaging data in one centralized space, accessible from anywhere in the world.
The platform notifies readers through tasks and worklists when a read is required.

Develop and Share your Novel Algorithms
Researchers can use the Software Development Kit (SDK) to easily develop, test and run their own algorithms in a scalable cloud. SDK also allows commercial third party developers to plug in image processing algorithms for any body part.
Algorithms and workflows deployed through the QMENTA platform can be quickly shared with the imaging community. The SDK facilitates the development of an ecosystem of image processing tools for a wide range of applications.